Percy Shakespeare was born in 1906 in the working class area of Kates Hill, Dudley, the fourth of eight children of John Thomas Shakespeare and his wife Ada. His family subsequently moved to council housing in the nearby Wren's Nest Estate area. In 1920, after a chance meeting at the Dudley Museum and Art Gallery with Ivo Shaw, the principal of Dudley Art School, he was offered a place at the school where his fees were waived for his eight years attendance where he showed a talent for figure drawing and portraits. Eventually he attended Birmingham School of Art, where he studied anatomical drawing under Harold Holden from 1923 to 1927 and obtained an Art Masters Certificate in Anatomical Drawing, and qualified as a teacher. He taught part-time, mostly at Birmingham Art School and occasionally at Kidderminster College.
For the rest of his life he continued to paint with a view to making that his career and produced a number of oil paintings each year (mostly portraiture) that were submitted to the Royal Academy and often accepted for exhibition. In 1933 he produced his most enigmatic painting, a self-portrait in which he appears to be posing as the demonic figure Mephistopheles. In the same year, he had his first exhibit at the Royal Academy, A Mulatto, a portrait of a lady which was later bought by Dudley Museum and Art Gallery. He also exhibited at the Paris Salon and at the Royal Birmingham Society of Artists, of which he was elected an associate in 1936. During this period, he was living in the family council house on the Wren's Nest. Despite his success at having his paintings included in prestigious exhibitions, few of them sold and his only significant income was from his teaching. He had no studio and often painted in his small bedroom.
From 1936 onwards, his work took a different direction from the portraiture that had been his mainstay. He embarked on a series of paintings which he called the Thirties at Leisure series, illustrating how the public were making use of their leisure time, the availability of which was growing in the thirties, at least to those fortunate enough to be in employment. The themes he chose were mostly focussed on the activities of the emerging middle classes – tennis, boating, concerts, ice skating etc. It is noticeable that there is no coverage of working-class pursuits such as football, pigeon racing or pubs. His paintings were carefully constructed and surviving drawings show extensive studies being prepared and considerable use of real-life models. Where locations can be identified (e.g. Dudley Zoo, Dudley Cricket Club) it is clear that the paintings represent a painstakingly faithful reproduction of the scenes. They form a fascinating and impressive collection of work.
When the second World War started in 1939, he enlisted in the Royal Navy and trained at HMS Vernon while continuing to paint in his spare time. In May 1943, whilst stationed ashore at Roedean School in East Sussex, he was killed, while he was walking alone opposite Marine Gate in Brighton in a bombing raid. He was only 37, his best years had almost certainly been denied him.
He remains unfairly neglected and little known outside (or even within) his home town. Encouraging news though came in January 2022 when a blue Plaque was unveiled in his honour on the façade of the former Dudley School of Art. It is to be hoped this represents a renewed interest in his life and work.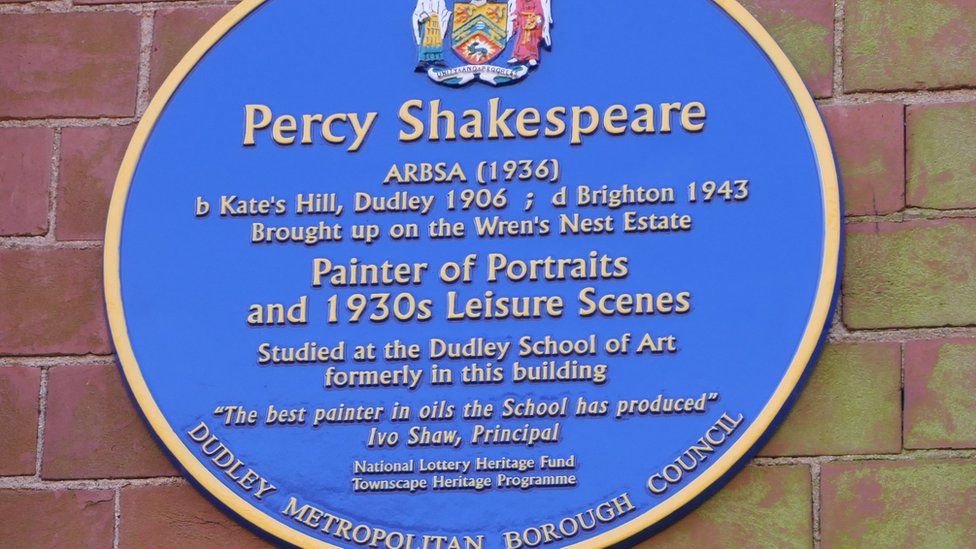 This website has been developed in the hope that it will promote interest in this intriguing artist. It includes the biography by Robin Shaw, the main source of information about the life of this very private man. I hope you enjoy browsing the site, and I would be most pleased to receive your comments.
John Price – jp@percyshakespeare.uk
February 2022
---
Please note, there are several references in this website to Dudley Museum and Art Gallery. The Museum and Art Gallery building was closed by Dudley Council on 22 December 2016 as part of cost-cutting efforts. A portion of the museum collection was later moved to the Dudley Archives centre on Tipton Road, under the name 'Dudley Museum at The Archives', and opened to the public in September 2017. Some of Shakespeare's paintings are on permanent display, although most are in store.